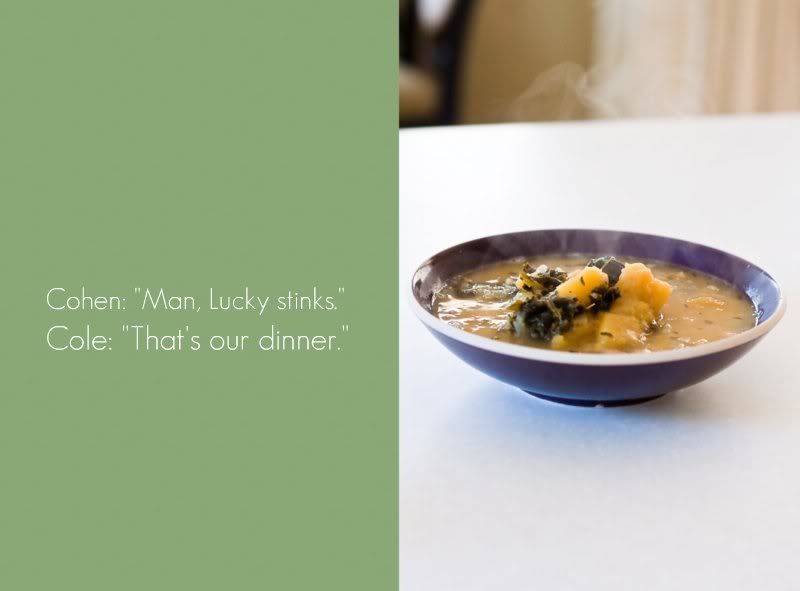 3 of 4 children loved this soup.
It is the easiest soup recipe ever.
That's a win win.
WINTER SOUP
2 tablespoons butter (I used olive oil)
1 medium onion
2 garlic cloves, coarsely chopped (I used more)
Coarse salt and ground pepper
1 pound acorn squash, peeled, seeded, and cut into 1-inch chunks (I used 1 large squash)
1 bunch kale, ribs cut away and discarded, leaves torn
5 1/2 cups (43.5 ounces) low-sodium chicken broth
1 can (14 ounces) cannellini beans, rinsed
3 sprigs thyme (I used a ton, I love THYME!)
In a large Dutch oven or heavy pot, melt butter over medium. Cook onion and garlic until fragrant, 3 minutes; season with salt and pepper. Add squash and kale and cook until kale is wilted, about 3 minutes; season with salt and pepper. Add broth, beans, and thyme. Bring to a simmer and cook until squash and kale are tender, about 12 minutes. Season soup with salt and pepper.
{
Recipe
}
{♥}