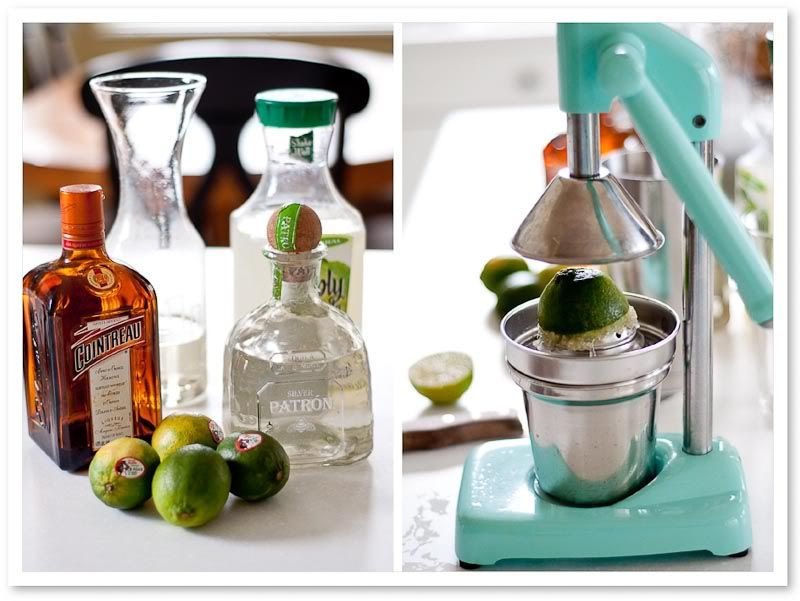 I'm always asked to bring the same three things to a dinner party; mango salsa, guacamole, and a pitcher of my margaritas. I have much more in my repertoire but people always go crazy for these simple items. Truthfully all three of them are the easiest things I make and the difference between my version, and what people are accustom to, is that I use only simple natural ingredients. I thought I would share my margarita 'recipe' with the masses. I made this up all on my own
, because cocktails with mix or any sweet crap make me choke, and it will probably reveal just how rudimentary my kitchen methods are. I hope you know how to count, because that is about all you need to make these bad boys. Fancy, huh? I'm not sure how this recipe will read, so bear with me. I promise it's worth it.

MARGARITAS
recipe makes two large drinks at my house, might make four at yours. (Remember I have FOUR kids.)

NEEDED:
A cocktail shaker (I chill mine)
Patron Silver
Cointreau
Agave nectar
3 or 4 limes
Simply Limeade™
Ice

Fill your chilled cocktail shaker 3/4 of the way up with ice. Next add four counts of Patron. (4 counts is a fancy way of saying pour it out and count 1...2...3...4.) I told you it was fancy. Now add three counts of Cointreau. Then put in one squeeze of agave nectar, no this isn't a joke, this is seriously how I measure. Squeeze the juice from your 3 or 4 limes and add whatever amount of juice you get to your shaker. Finally, I add whatever amount of Simply Limeade™ I need to fill the shaker to the right level before shaking. This last tip is important. SHAKE a lot. ENJOY!

Note: Because I'm lame I have not figured out how to make this in large pitcher quantity and come out right. Therefore when I am making a pitcher or two to take to a gathering I make the recipe individually and then pour each into a pitcher. Now that's Love. Did you hear that friends?

*Disclaimer: These margaritas will ruin you and you will never be able to order a 'rita at a bar or restaurant for they will make you gag. True story.
*photography by me